ABOUT US
For over 25 years, we have been designing and producing machines and complete production lines for the food processing and other industries.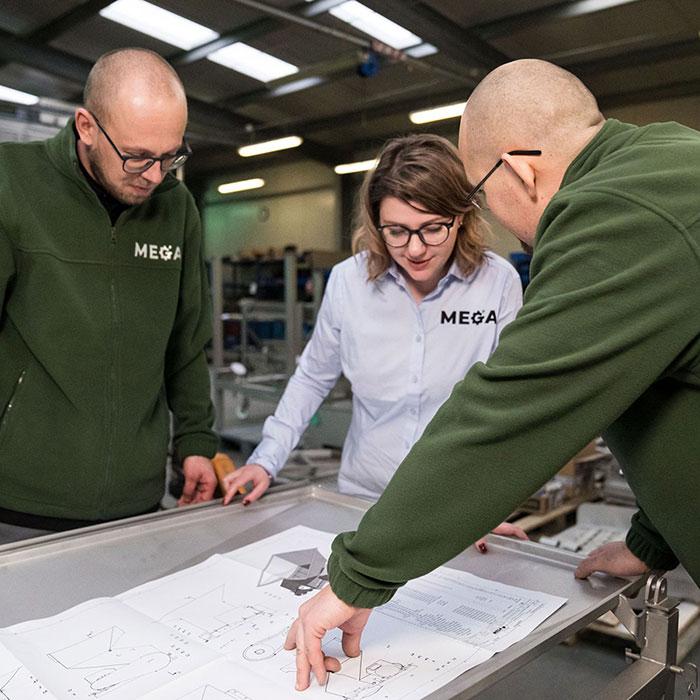 When we started in 1996, the company had 3 employees. Dynamic development, combined with continuous improvement of products achieved thanks to the knowledge, perseverance and commitment of qualified staff, resulted in our company currently being number 1 in Poland in the field of frozen fruits and vegetables processing, employing over 90 people.
The unique experience gained over the years in the field of machine implementation, for both large processing plants and small enterprises, means that MEGA customers can count on expert and fully comprehensive advice on innovative technical solutions for the food industry, at any time.
Over the last year alone, more than 450 machines left MEGA's production halls, and the company's equipment is used on 4 continents.
MEGA is one of the key employers in the region, and MEGA employees design and implement solutions improving the production processes of clients all over Poland and around the world, including the United States, Egypt and almost every European country.
How we work?
Exceptional quality standards confirmed by certificates allow us to offer the highest quality of products and services. Thanks to this, we have gained the trust of customers in many countries on all continents. All over the world, our clients are able to get professional advice and comprehensive service in the field of innovative technical solutions and technologies for the food industry, in particular the processing of vegetables, fruits and mushrooms.
Individual approach means that we offer support tailored to the needs of your business.
For many years, MEGA has regularly participated in the most important local and international industry events. The company actively takes part in fairs, symposia and conferences, where our solutions are widely popular. Every year, MEGA representatives visit key events such as:
Fresh Business Expo Kijów, Fruit Logistica Berlin, Polagra, McFruit, Anuga Food Tech, World Food Uzbekistan, Pieczarkalia "Viva La Pieczarka", among others.
MEGA has gained numerous certificates, including ISO 9001, ISO 14001, ISO PN-N-18001, the title of the "Lubelskie" brand, the Science-Friendly Company certificate and patents, e.g. for its sea buckthorn separator.
In addition to the production of machines for the food industry, MEGA provides comprehensive services in the field of metal and plastic processing. The company offers a full range of cutting services for structural steel, stainless steel and non-ferrous metals.
MEGA LASER provides modern solutions for pipe and profile processing thanks to the 3D laser which gives us the possibility of obtaining various shapes, bent details and complex structures, and providing the highest quality of details with the shortest lead times.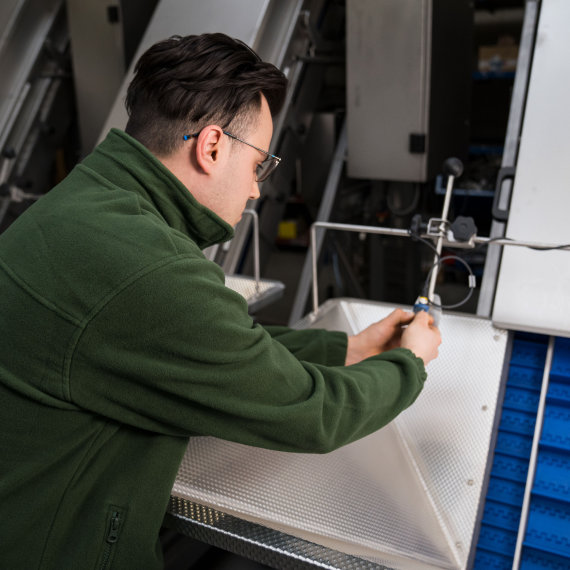 Over the last year alone, more than 450 machines  left MEGA's production halls, and the company's equipment is used on 4 continents.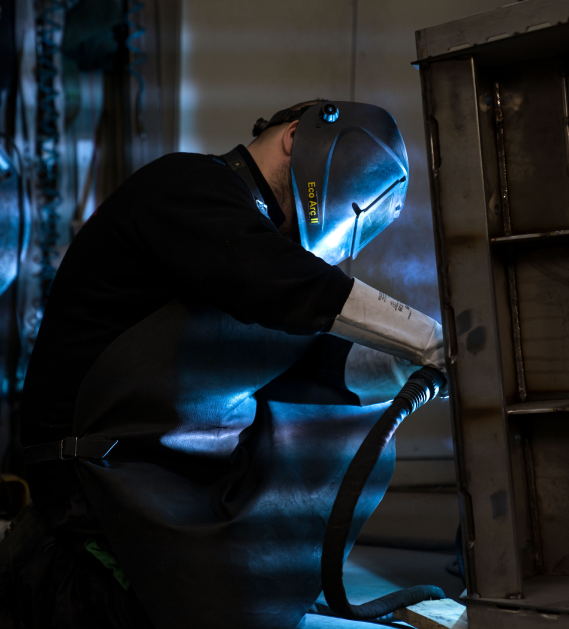 Service
MEGA has its own specialized service department, created by technicians with many years of experience in implementing solutions for the food industry. Thanks to their knowledge and full technical support, our experts provide assistance in all matters related to the operation of your machines.
At MEGA, we understand the difficulties associated with downtime due to tight deadlines and the need for continuous production processes.
Your requests are accepted by phone or e-mail by our Service Department. Repairs are carried out in the country and abroad, mostly within 24 hours from the notification.
MEGA Service Department offers:
24/7 availability and immediate handling of requests
possibility of remote diagnostics during video conversation and on-site service
periodic inspections, warranty and post-warranty repairs
spare parts catalogue
Career
Our capital is, first of all, people: professional, committed, passionate, experienced and full of energy. We are creative and open to your needs!
MEGA is a team that values good relations and mutual support.
We appreciate creativity, continuous improvement and commitment.
We believe that as a guarantee of stable employment and optimal working conditions, we build a space where there is room for development, ambitious goals and bold challenges.
In our company, you can start your career path or improve your current qualifications.
Would you like to work with us?  Send us your application: praca@megabelzyce.pl
Maybe we are looking for You!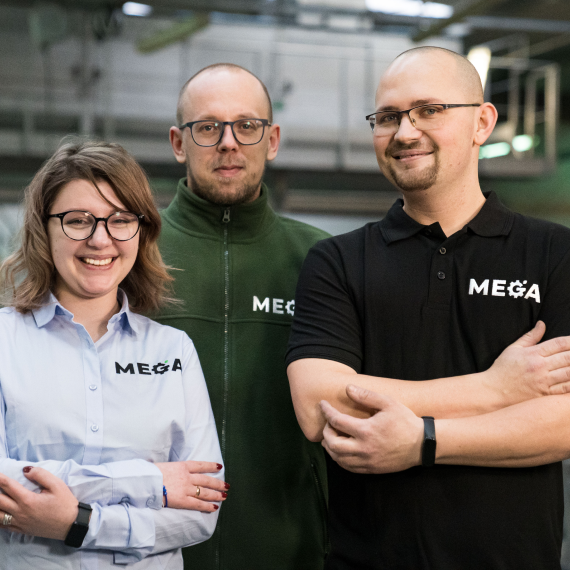 SERVICE
If you would like to ask a question or get information from one of our experts, please contact us.
Get in touch with our Technical Service Department
Phone: +48 81 516 20 03 ext. 37
E-mail serwis@megabelzyce.pl
Mobile: +48 507-192-440
Certificates
Our machines have obtained the necessary certificates and approvals.
Certyfikat systemu zarządzania jakością ISO 9001:2015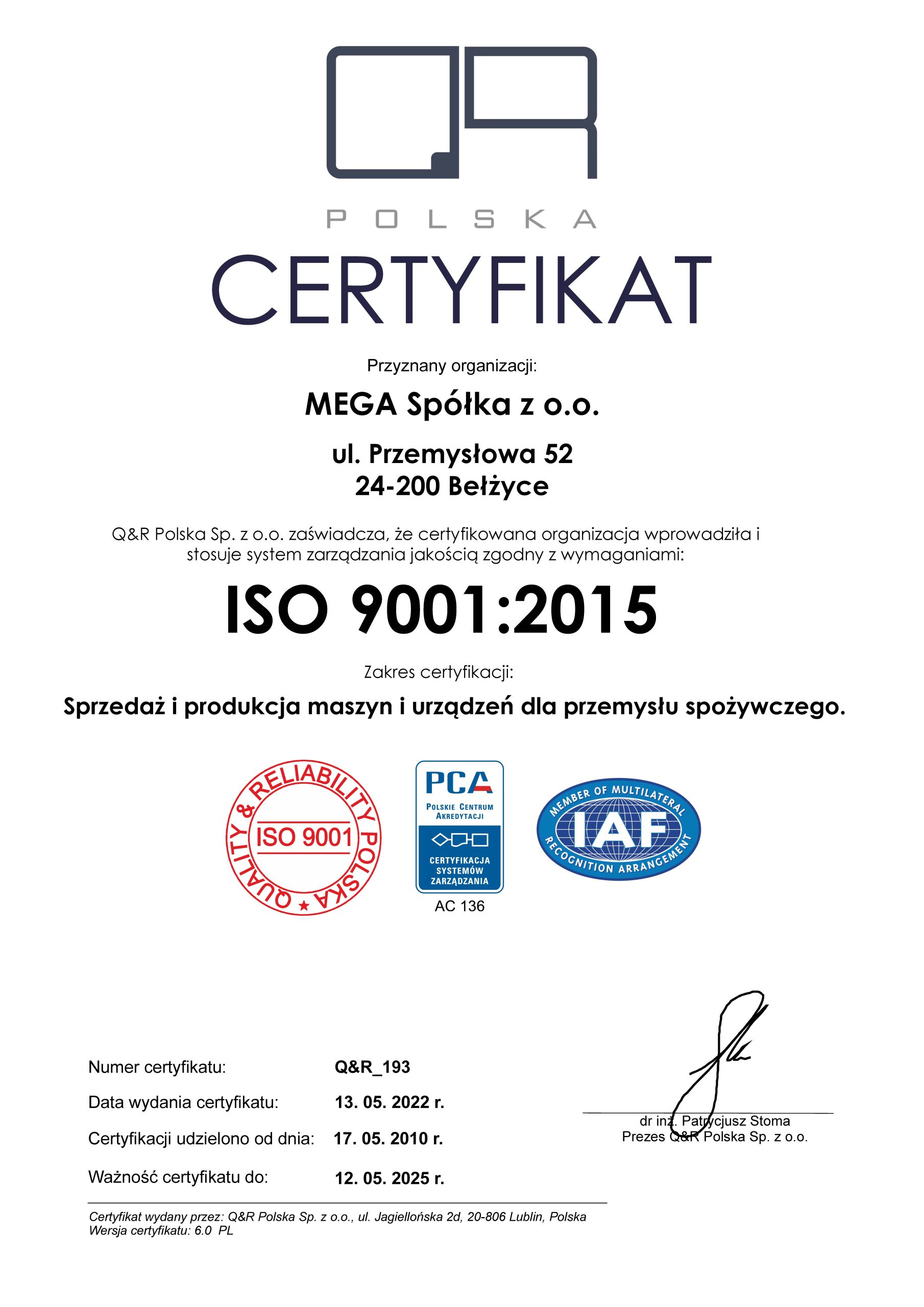 Certyfikat systemu zarządzania jakością ISO 18001:2004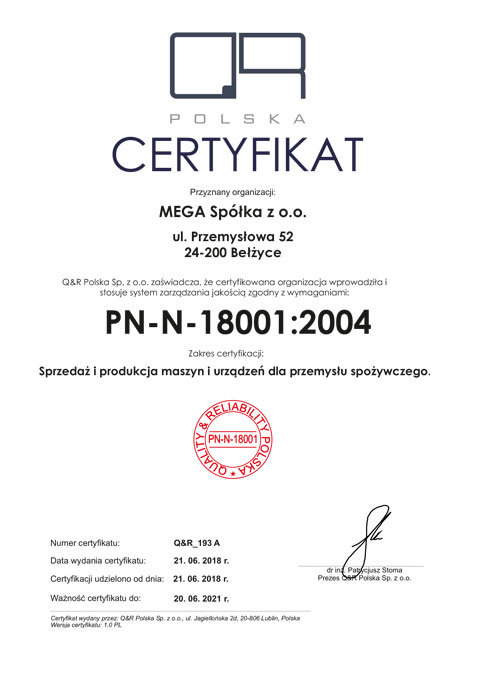 Certyfikat systemu zarządzania jakością ISO 14001:2015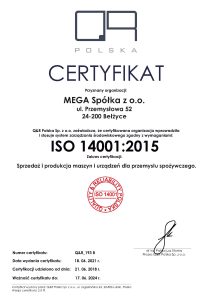 Znak jakości "Marka Lubelskie"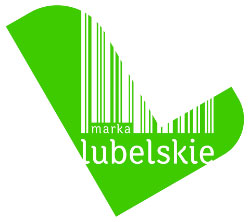 ZUS Projects

The project is about maintaining the ability to work throughout your working life.
Date of signing the contract: March 2023
Funding: 68 791,43 zł
Total value: 123 685,00 zł
EU Projects
We take an active part in selected EU projects.
Title: Development of innovative technologies for comprehensive utilization of waste generated during pig fattening
Scope and goals: The aim of the project is to reduce the negative effects of intensive pig production on the environment, by developing and implementing innovative technologies that reduce emissions of harmful and greenhouse gases.
Implementation period: 01/06/2016 – 31/10/2019
Budget: 14,302,000.00
Title: Photovoltaic installation at Mega Sp. z o.o.
Scope and goals: The aim of the project is to build a photovoltaic installation to generate electricity from RES. The investment aims to reduce greenhouse gas emissions and increase energy efficiency. This will have a positive impact on the environment.
Implementation period: 04/01/2021 – 31/12/2021
Budget: 178,350.91
Title: Development of an innovative broccoli harvester
Scope and goals: The aim of the project is to develop, produce and implement an innovative broccoli harvester, which will help to increase the competitiveness of both vegetable growers and agricultural machinery manufacturers.
Implementation period: 01/09/2016 – 26/10/2020
Budget: 2,135,112.74
PLANNED PROJECT:
Main goal: The main goal of the project is to increase the competitiveness and production capacity of Mega Sp. z o.o. thanks to the acquisition of innovative process technology, which is Product Design and Manufacturing Collection from Dawca Technologii MAT CAD-IT Sp. z o.o., and the involvement of own human resources in order to implement it. The applicant plans to acquire and implement the technology, i.e. Product Design and Manufacturing Collection in the period of 01/01/2022 – 31/10/2022.
Co-financing amount (in PLN): 314,781.93
Total expenditure: 553,116.82

Let's stay in touch
Let's talk! If you would like to ask a question or get information from one of our experts, please contact us.
We will select individual technical parameters and device efficiency, according to your needs!