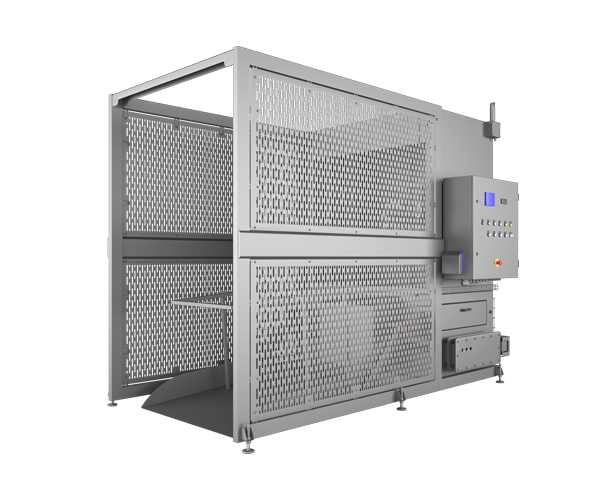 WASHER FOR CONTAINERS AND BOX PALLETS
The washer for containers and box pallets with automatic loading is a device designed for cleaning collective packaging such as containers, barrels and box pallets, used for the transport of sauces or vegetables and fruit with residual contaminants such as juices, soil or sand.
Automatic loading and unloading of the packaging enables one-person operation. Using a forklift, place the packaging in a basket with a flap, then press the button on the control cabinet to start the work cycle.
To improve the effectiveness of washing, you should put hot water into the device. You can do it in 3 ways:
installing special heaters to heat the water
supplying the machine with water from the mains
supplying the machine with heated water
The water used to rinse the packages is filtered and used for the main washing in the next cycle. Thanks to this closed cycle, the device is more economical.
The machine has an efficiency of about 10 cycles/h.
ASK FOR THE PRODUCT
Contact us! We will select individual technical parameters and device efficiency, according to your needs!