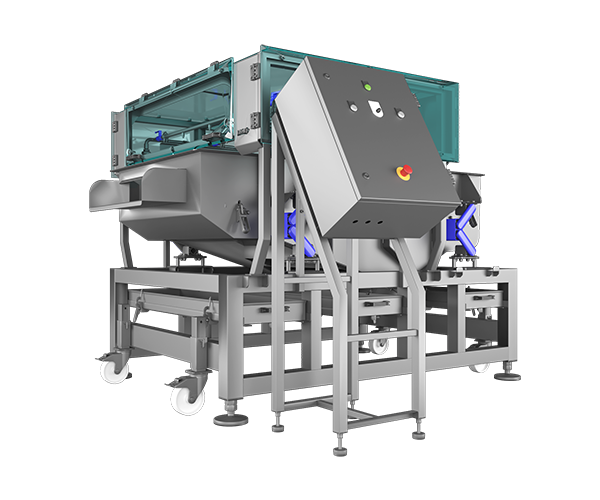 VIBRATORY GLAZER
The device is used in fruit and vegetable processing plants to strengthen products such as broccoli or cauliflower before their calibration. An additional effect may be the improvement of the appearance of the processed products and an increase in their weight.
It is set up in the technological line, usually right after the fluidized freezing tunnel (IQF).
The device has a form of an open vibrating chute with three built-in replaceable sieves. The product is evenly distributed on the first sieve where the crumble is collected.
In the next two sieves, the product is subjected to the water mist sprayed through the nozzles. This zone is covered with plexiglass. The use of a cascade sieve system ensures an even glazing effect. The clamping system used for the sieves, located outside the product transport zone, makes their replacement very quick, in order to adjust the size of the screen gap to the processed product. The vibrating chute is mounted on the supporting structure by means of spring suspensions. Two vibration motors with linear operating characteristics are used as the machine's drive.
ASK FOR THE PRODUCT
Contact us! We will select individual technical parameters and device efficiency, according to your needs!