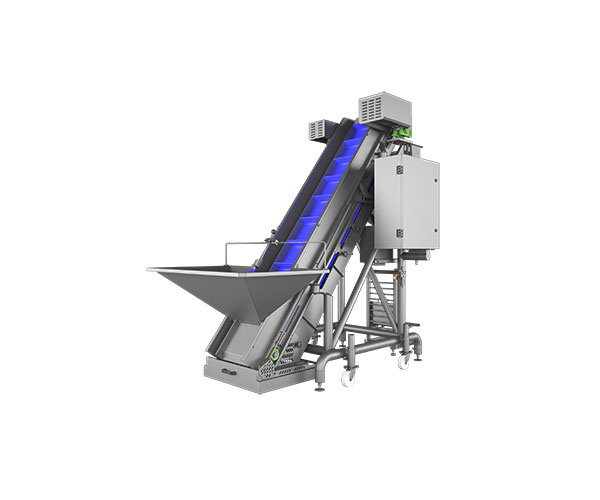 BELT WEIGHING BATCHER
The machine has been designed for dispensing products into bags and cartons in the fruit and vegetable industry. The versatility and multifunctionality of the device can be understood through its universal applications, e.g. by using it for other products, not only those which are frozen.
Solid workmanship, as well as adaptation to work in sub-zero temperatures are other advantages of the machine. The system enabling continuous control of weighing parameters allows for the highest accuracy of the batched product. The device is intuitively programmed to make the entire dispensing process as easy and automatic as possible.
The machine has the ability to adjust the program to a specific product and desired weight, which results in saving a large amount of time. To facilitate work, it is possible to save recipes for a specific product in the device's memory, thanks to which you will not be obliged to enter data each time you start the machine. At the moment, you can save 20 recipes in the device's memory, with the possibility of increasing, according to your individual needs.
In comparison to competing offers, MEGA devices, with the operator's comfort in mind, have been optimized in terms of the number of settings needed for their operation. As a result, we created an intuitive and easy-to-use control panel.
Thanks to our wide range of machines, we can easily meet all customer requirements for the weighing vegetables and fruits. The greatest benefits of buying a MEGA device are functionality, cost-effectiveness, high performance, and obtaining a product tailored to the individual needs of the customer.
ASK FOR THE PRODUCT
Contact us! We will select individual technical parameters and device efficiency, according to your needs!