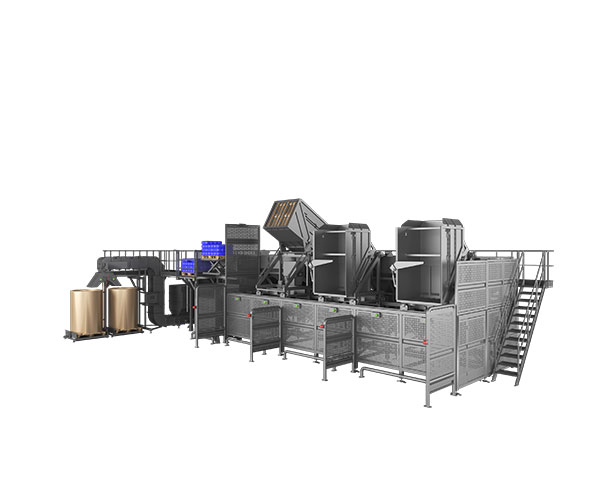 FROZEN FOOD MIXING LINE
A modern, customized line intended for the production of frozen fruit and vegetable mixtures. It is equipped with a complete set of machines, thanks to which it can achieve high efficiency.
The frozen food mixing line consists of a tippler that automatically transfers the hopper to a given container, where it is unloaded. It is possible to fill the containers manually, e.g. with product poured from bags.
When the product enters the container, the next step is to break it into the appropriate structure, and then, using a screw conveyor, it is fed to the dosing and weighing stations. The device allows you to obtain the desired percentages of produced vegetable / fruit mixes, according to the entered recipes. There are recipes on the screen with percentage settings for each container.
The line can be equipped with an optional system for feeding / dosing spices and dried vegetables – the ready-made vegetable mix can be enriched with a mixture of spices or other additives, e.g. sunflower seeds.
At the final stage of production, a mixture of spices selected by the customer is introduced into the ready-made vegetable mix by means of a screw conveyor.
Detailed refinement of this line resulted in a carefully thought-out concept of the technological process and transparent operation of the devices. Thanks to the cooperation with our clients, we can learn more about their needs and create production lines that meet their requirements. We can design all our machines according to individual customer requirements. Stainless steel machines, subjected to the right service, will remain operational for many years.
ASK FOR THE PRODUCT
Contact us! We will select individual technical parameters and device efficiency, according to your needs!