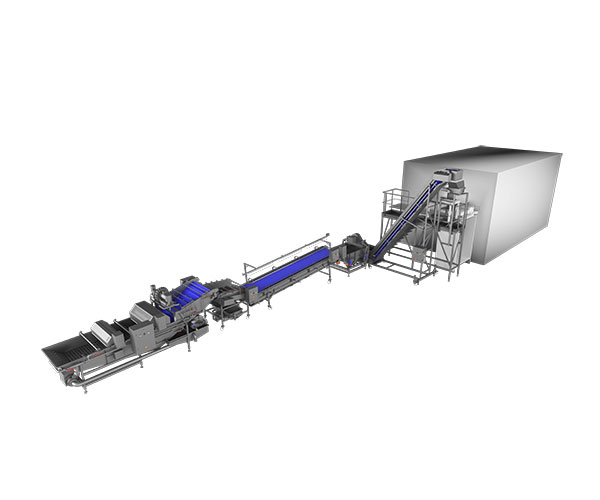 ONION LINE
A modern, customized line that enables the processing of peeled onions into frozen foods or into preserves, e.g. in jars. All lines and machines produced by us are individually tailored to the customer's needs.
The process begins with delivering the peeled onions from the boxes to the water-air washer, directly or by means of a tippler, where they are cleaned. After this stage, the onion is directed to the cutters. According to the customer's needs for the final product, we can offer a device for cutting into cubes, slices and half slices. The onion, prepared for freezing, is transported to the cooling tunnel. After this stage, you can redirect the product directly from the cooling tunnel to the packaging line.
If the onion is intended for pickling or roasting, the process of blanching takes place after slicing. Then the blanched product goes to a centrifuge where the remaining water is removed. The processed onions can be further dried, roasted, or redirected to the packaging line, e.g. to put them into jars.
All our lines can be integrated with optical sorters.
Detailed refinement of this line resulted in a carefully thought-out concept of the technological process and transparent operation of the devices. Thanks to the cooperation with our clients, we can learn more about their needs and create production lines that meet their requirements. Stainless steel machines, subjected to the right service, will remain operational for many years.
ASK FOR THE PRODUCT
Contact us! We will select individual technical parameters and device efficiency, according to your needs!